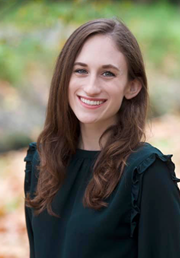 Dr. Leslie Gaynor is a clinical and research postdoctoral fellow at University of California, San Francisco, Memory and Aging Center in the Department of Neurology. She graduated from the University of Florida in 2015 with bachelor's degrees in Neurobiological Sciences and English. She then completed her PhD in Clinical Psychology (Neuropsychology) at the University of Florida in 2021, which included a predoctoral clinical internship at Emory University School of Medicine/Grady Health System in adult/geriatric neuropsychology.
Leslie's primary research interests include validating and implementing novel cognitive assessment tools to support diagnosis and monitoring of neurodegenerative disease in primary care. Through utilization of computerized cognitive assessment tools, structural neuroimaging, and blood biomarkers, she hopes to improve early detection of Alzheimer's disease and related dementias.
As a previous co-production coordinator for the Navigating Neuropsychology podcast team and Awards Section Lead for the INS Member Newsletter, Leslie is interested in science communication and neuropsychology education. She can be reached by email at Leslie.Gaynor@ucsf.edu and or via Twitter at @LeslieSGaynor.
Dr. Gaynor served on the KnowNeuropsychology Committee from October 2021 to September 2022.